Art and Nature's Grace Right in Your Home
Our nature is home to many wonders that we can only hope to replicate in their beauty. People and art always make their best attempt to recreate these wonders, and in doing so, we have the privilege to lay our eyes on amazing creations.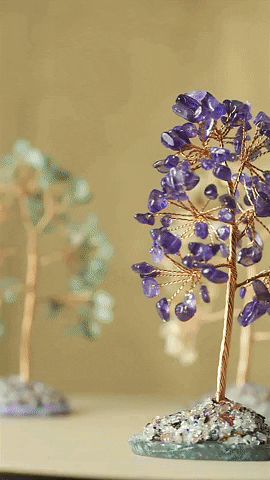 Our Amethyst Quartz Tree of Life is a perfect example of this amazing creation. It's an art décor that graces your room with the image of nature's perfection.
What makes it the perfect art piece:
Beautiful reminder. The art of amethyst and quartz symbolize meaningful values in some cultures. It's a reminder of tranquility and love that can bring a sense of harmony in your home.
Aesthetic addition. Each detail in our Tree of Life is carefully crafted to recreate the beautiful structure of an elder tree, with the gems at its tips signifying fruits of love and peace.
Channel focus. Art decors serve more than simply add creativity to your home. While in solemn appreciation of their aesthetic, they are also inspired creations that can help guide your thoughts.
Selection for character. The Tree of Life comes with a selection of gem-inspired designs in different hues. Feel free to find one that resonates with your home's character the most!
Thoughtful gift. With its sophisticated design and meaningful symbolism, it's a great gift that your friend or loved one will surely appreciate.
Our Amethyst Quartz Tree of Life is a meaningful art décor that can elevate the harmony in your home. Embrace nature's gifts in solemn appreciation when you order one today!